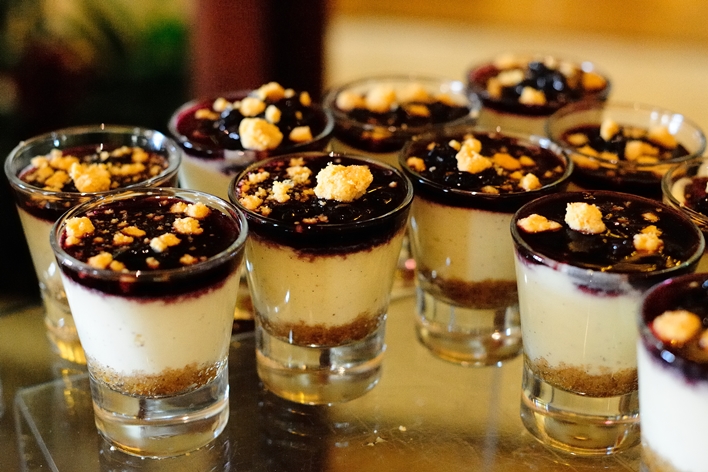 Dessert shots are easy to make and look great without any elaborate presentation. Source Michael Saechang/Flickr
With Diwali just a few days away, you're most likely planning the menu for dinner and being the perfect host. Snacks and mains are pretty standard and with the kind of options at hand, preparing them or getting someone to deliver them at home is not really much of a hassle. It is the dessert that we find most challenging. Because as Indians, the concept of 'meetha' is ingrained in us, and it reaches ungodly highs during Diwali, given the amount of mithai and sweets loading up platters. But then again, as a host you don't want to serve the same gulab jamun or rasmalai that every other person is serving. And making a cake seems like too much of a job. Over time (and many lumpy cake disasters later), we've abandoned our aspirations and settled for something that's simple yet rich. Desserts that look like you've put a lot of effort into them but really aren't too much of a hassle to put together. Of those, shot glass desserts remain a favourite. They look super fancy, what with being set in a shot glass and all. Besides, if you're watching your weight (honestly, who isn't these days), these desserts are a perfect way to exercise portion control and try to stay on track with your diet plans during the festive season. Besides, the tiny size also helps to do away with the guilt of having had a touch too much to eat without feeling like you're missing out on the festivities and the feasting that goes along with it. Here are four simple recipes to try, and blow your friends and family away with your dessert-making prowess:
2 ingredient mousse
We love mousse and cannot think of a better example that's equal parts easy and decadent. Besides, this recipe uses only two ingredients to whip up a mousse that's light as air.
Chocolate vanilla custard
Nothing says indulgence better than chocolate. Add some vanilla into the mix and you're going to ace your Diwali dinner as a host.
Chocolate caramel mousse
Buttery soft and light, we don't think there's anyone who will not love the chocolate mousse and caramel combination.
Oreo Parfait
The name does sound a bit complex and to be honest, fancy. However, this dessert is anything but. It's a simple quick recipe and will soon become your go-to dessert when in doubt.