Spelt also contains gluten but is considered to be healthier than wheat. Photograph by Isabel/Flickr
A heritage grain, grown widely in Europe and America, spelt is becoming extremely popular among the health conscious in India. Fitness and nutrition expert Dr. Asif Khan, who believes in entirely doing away whole grains from one's diet, has been recommending spelt to his clients. "I get it from Dubai," says the Mumbai-based fitness professional.
Similar looking to the more popular grain, wheat, spelt, is believed to have been first harvested in 5,000 B.C in Mesopotamia, or what is known as Iran today, according to A Dictionary of The Economic Products of India by George Watt. The grain was later cultivated in North America as recently as the 1900s. While spelt too contains gluten, the molecular structure of the grain makes it entirely different from wheat. Spelt includes more fibre than wheat, which aids digestion and it is also more water soluble, unlike the gluten-heavy wheat. Spelt also contains more protein and in some parts of Europe such as Poland, spelt is fermented and distilled to make vodka.
Minerals such as magnesium, iron, zinc and phosphorous found in spelt bran have a lot of benefits. They increase the body's immunity, help in the functioning of the nervous system, prevent cardio vascular disease (CVD) and are also beneficial for the bones. The flour also includes a high percentage of Vitamin B3, which controls the blood cholestrol levels.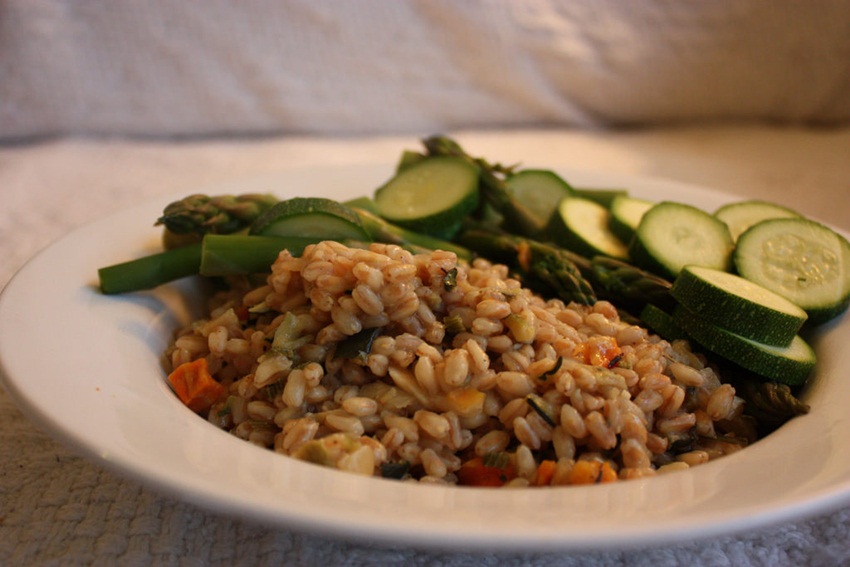 A risotto made with spelt flour. Photograph by Hilary Perkins/Flickr
Besides its health benefits, spelt is easy to cook with. Spelt flour, which is also slightly sweeter to taste, is being favoured by home bakers across the world for breads, pizza crusts, pastries and the grain is even cooked in the form of a risotto because of its nutty flavour. A whole range of organic pasta made using spelt flour is also available at select organic stores in India.
Check out a recipe for spelt crackers below