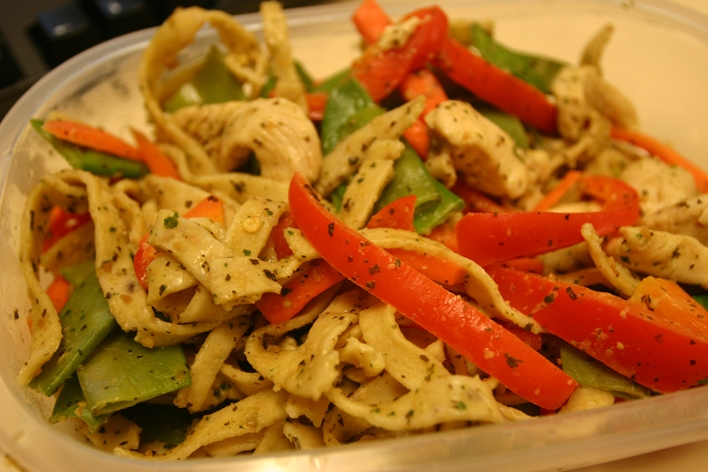 Thai noodle salad with chicken and peanut-lemon dressing. Image source: Martin Cathrae/Flickr
The festive season is synonymous with socialising and dinner parties. To give your body a bit of a break from all the calorie-loading, a salad for lunch or dinner would be ideal. Instead of calling your favourite health bar for a fancy salad takeout, why not make some at home? The Thai salad here is a light yet balanced meal, with fibre, vitamins, antioxidants from the veggies, healthy fats and protein. Healthy and nutritious, the salad is packed with flavour and requires a small amount of effort to put together.
Ingredients:
For the dressing:
120ml refined vegetable oil
80ml soy sauce
60ml white vinegar
2 tbspn water
2 tbspn honey
2 tbspn sesame oil
1 tbspn ginger paste
4-5 tbspn lime juice
80-85g peanut butter
For the salad:
110 g of rice noodles
500g chicken breast (skinless)
400g spinach, roughly chopped
3 carrots, cut into thin strips
3 bell peppers, cut into thin strips
200g coriander leaves, chopped
4 spring onion shoots, chopped
50g peanuts
Method:
Soak noodles in a bowl containing cold water and set aside. Pre-heat oven to 400C
In a food processor, blitz together the oil, garlic, soy sauce, vinegar, water, honey, sesame oil, ginger paste and lime juice. Remove approximately half a cup of this dressing to prep the chicken. Coat chicken well and marinate in the fridge for 15 to 30 minutes. Add peanut butter to the rest of the mixture in the food processor, pulse to form a smooth paste. Taste to adjust and set aside
In a mixing bowl, combine all the chopped veggies and toss well
Bake the chicken for approximately 20 minutes. Remove from the oven when done, rest it for a couple of minutes. Chop chicken into bite sized chunks and mix in well with the vegetables
Drain the softened noodles and cook them in a pan or skillet over medium high heat. Toss them with a little oil and a small amount of dressing till noodles are soft and cooked. Add a small amount of water, if needed, to soften noodles.
Mix noodles with the chicken and vegetables. Top with peanuts and chopped coriander. Add in the dressing and toss well to mix and season. Finish with a sprinkling of a small amount of sesame seeds. Add more lime juice, if you so desire
Serve hot or cold.
Recipe source: pinchofyum.com