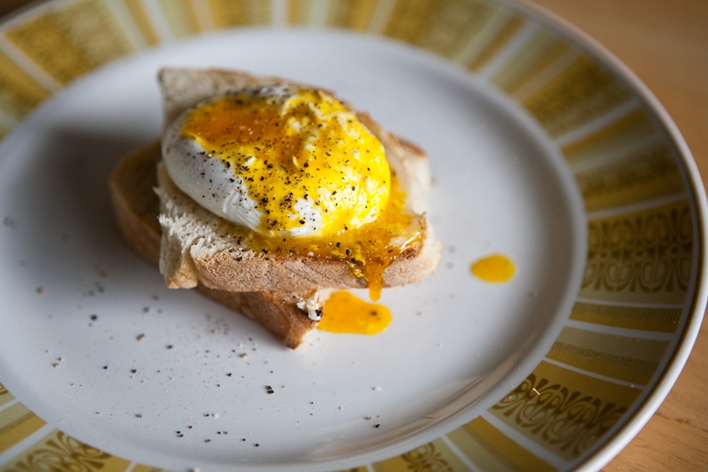 Tucking in the golden goodness of a poached egg is a whole different emotion. Source: Deann Barrera/Flickr
Eggs are an inexpensive source of high quality protein. And yes, there's a lot of dissent over whether you should really eat the yolk or not, but we love eggs just the same. Apart from being loaded with protein (more than half is found in the egg white), eggs are sort of a complete meal when it comes to nutritional markup. There's vitamin B2, traces of fat plus selenium, vitamin D, vitamin B6, vitamin B12 and minerals like iron, zinc and copper that aid with a host of body functions like healthy skin, great hair, keeping your heart functioning in perfect condition among others. There's really nothing like an egg. It transmogrifies from a goopy, sticky, runny liquid into fabulous forms, depending on how you handle, season and cook it. And it only takes a couple of minutes to have them ready for eating. The simplest is of course, a boiled egg or a poached variant – if you're the kind to feast on gold hued runny yolks. For days when you're really not in the mood to cook, and are fighting the urge to call for a grease-loaded takeout, make eggs. We've got five delicious recipes that are super simple and can be mastered by even a novice:
Bread egg masala
We can't think of a better way to begin our day other than a hearty serving of eggs. The dish is loaded with spices that will surely wake up your taste buds and keep you full till at least lunch. Although the recipe uses regular white sliced bread, you can substitute it with whole wheat bread for added goodness.
Korean egg rolls
Doubling up as a meal or a snack, Korean egg rolls or Tamagoyaki are really easy to make. With a handful few ingredients, you can make yourself a wholesome, tasty dish that's filling, light and nutritious.
Egg Kebab
You're in the mood to have some kebabs but can't even think of meat, given the amount of calorie-laden food you've practically inhaled during the festivities. Try these egg kebabs instead. With cheese, potatoes and eggs added to the mix, there's really nothing to complain about. Plus, these also make for a great side when you're hosting friends over for dinner.
Egg cheese toast
We know cheese toast is just an excuse to eat a crazy amount of cheese and bread. But how about making your weekend snack a touch healthy? A few slices of boiled egg to the mix makes all the difference. Make sure to substitute with whole wheat or brown bread, since you're still trying to eat healthy.
Spanish Tortilla
One of our favourite things to do with eggs and potatoes comes from Spain. The tortilla is a fluffy, filling egg cake and is just so simple to make. Have it for dinner with a side of a light salad, or make a huge batch and pack it for lunch at work the next day, we're sure this will become your go-to egg recipe soon.