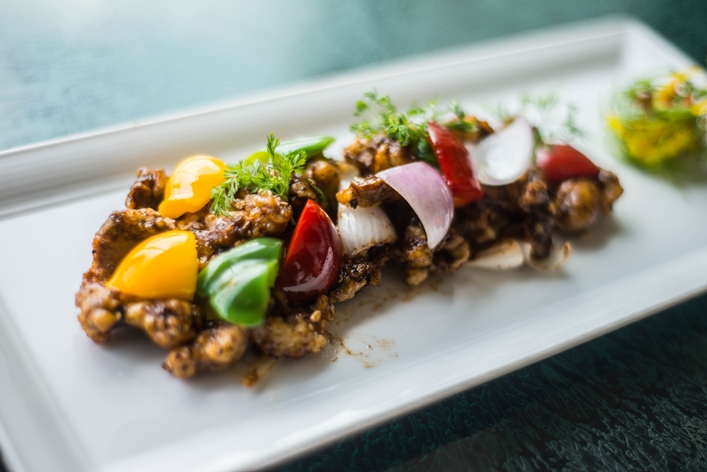 Photograph by Anurag Basu
For most meat-lovers, eating healthy includes switching from juicy red meat to lean proteins. As the most popular contender in the category, chicken is extremely easy to cook. Pan seared chicken with a few seasonings is a safe option, that goes well with just about any kind of salad that your nutritionist forces you to eat. If it's a cheat day that you're cooking for, the fried chicken seems like the perfect bet. Of course, simple good ol' fried chicken is nice but if you're looking for some variety, this recipe may just be what you need. The ingredient list is simple and prep time is minimal to ensure you don't really have to work too hard on your day off. Chef Sahil Arora, executive chef at Renaissance Mumbai Convention Centre Hotel and Marriott Executive Apartments, Mumbai shares his recipe of salt and pepper chicken.
Ingredients
Serves 4
480g Boneless chicken legs cut into small chunks/bite-sized morsels
3tbsp corn flour
500ml oil
2tbsp light soya sauce
2tbsp crushed black pepper
1tbsp white pepper powder
30g chopped onion
30g chopped garlic
30g chopped ginger
1tsp Chinese five spice powder
2tbsp chopped spring onion
60ml chicken stock
Salt, to taste
Method:
In a medium sized bowl, add the chicken, salt, white pepper powder, soya sauce and mix well. Add in the corn flour and mix until all the chicken pieces are coated. Set aside.
In a deep bottomed pan, heat oil on medium flame. Deep fry until the chicken is completely cooked and the coating takes on a golden colour. Remove from heat and place on paper towels to absorb excess oil. Set aside.
Heat 2 tsp of oil in a pan on medium low flame and sauté chopped onion, garlic, ginger. Add half the quantity of spring onions and sauté till golden.
Add in the fried chicken, season with salt, crushed black pepper and five spice powder. Toss well to mix. Add some chicken stock to mix ingredients well and toss again.
Mix in the remaining spring onion, give the ingredients a quick toss and remove from heat.
Serve hot.
Note:
If you cannot find Chinese five spice powder, you can make your own mix using equal parts of dry roasted star anise, cloves, cinnamon, sichuan pepper, and fennel seeds.