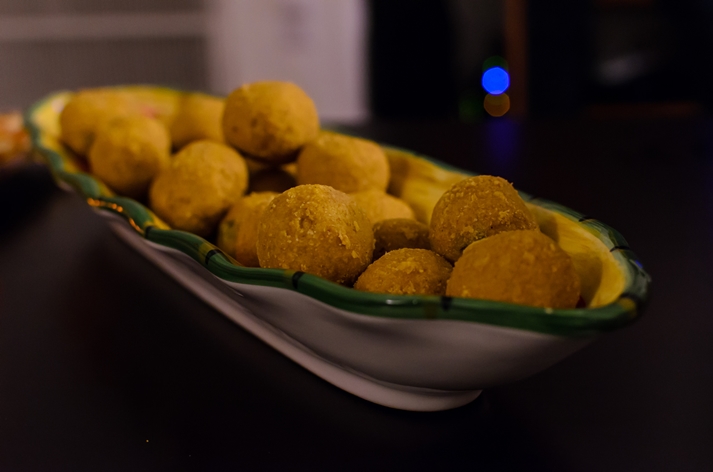 Like all Indian festivities, laddoos are integral to the Karwa Chauth platter. Source: Dinesh Gaitonde/Flickr
Karwa Chauth or Teej is a popular festival in North India, including Haryana, Punjab, Rajasthan, and Uttar Pradesh. Women who observe Karwa Chauth fast from dawn till dusk. The dishes eaten in the evening, after the fast, mostly omit the use of onion and garlic. A lot of variation exists in the food consumed, given that the food differs from one region to another. But a few dishes remain extremely popular and are quite nutritious too, especially considering that the womenfolk do not consume anything throughout the day. Here are a few popular dishes for you to try this karwa chauth, whether you're fasting or not:
Pua
Pua is a sweet preparation made using whole wheat flour, milk. Some recipes also use dessicated coconut for added flavour. Integral to Karwa Chauth festivities in North India, especially Uttar Pradesh, this easy-to-make dish is sometimes the first dish consumed after breaking the fast.
Aloo Mutter
A popular poptato-based curry in North India, aloo mutter is usually a gravy-based preparation and is had with chapatis or poori, depending on the region it is made. Quick and easy, the dish uses every-day ingredients and is ready within minutes.
Mooli palak sabzi
We normally assume radish makes for amazing parathas, but there's a lot that can be done with this vegetable. When paired with spinach, the dish makes for a crunchy, delicious addition to the meal. It is also extremely easy to make and does not involve tedious prepping.
Arbi cutlet
Arbi or colocasia leaves are a popular food on the vrat menu. Colocasia leaves are used in different ways across India. The most popular being patra or alu vadi made along the western coast by the Gujarati and Maharastrian communities, respectively. Cutlets using this veggie, though not so popular taste great and make for an excellent side dish for an all-vegetarian spread. The recipe below uses ginger and garlic, which can be omitted, since the preparation is for those fasting during teej. Here's how to make it:

Atta laddoo
A popular sweet made in North India, the atta laddoo uses wholewheat flour, making it a healthy indulgence. The recipe also uses lotus seeds which are rich in protein, phosphorus, potassium and other essential nutrients. Easy and hassle-free, these laddoos can be stored for days without any trouble.