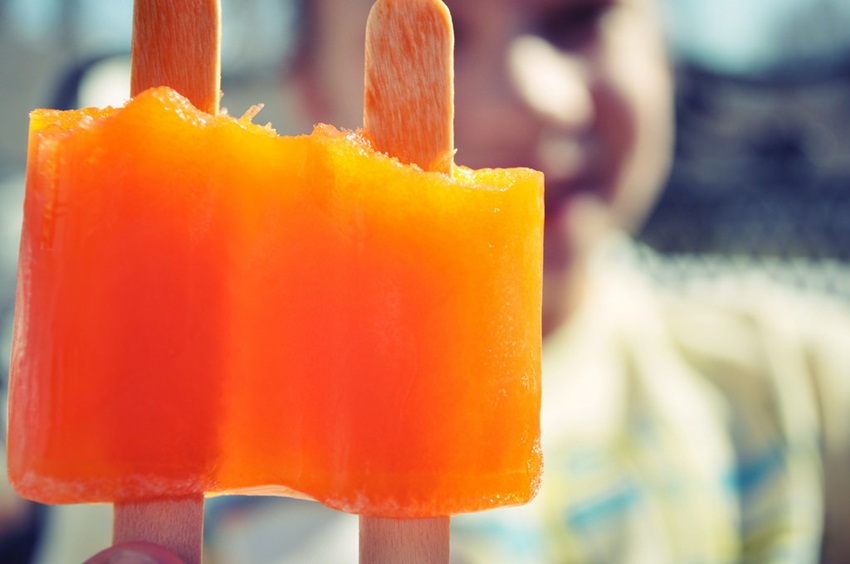 Orange lollies on hot summer days and pista sandwich ice creams on weekends. Photograph by Sarah Buckley/Flickr
When I was really young – say about six or seven years old – I loved the orange candy (popsicle) we got at an Irani place close to my house. I lived in Sion then and Joy and Kwality Ice Creams were very famous. So whenever it was a time for a treat, I was allowed to get myself an orange candy and would eat it as I walked back home.
I also loved kulfi falooda as a kid. This was kulfi with sabja and rose syrup. My father would take us to watch a movie at Aurora theatre in Matunga every other Sunday and the evening would end with kulfi falooda. We used to buy it from a seller who sat with his ice box of kulfis on the same compound as the theatre. I still love faloodas and the rose sabja ice cream that I created some three years ago is our most popular flavour today. Even today, when I go to Crawford market for some shopping, I have to stop by Badshah Cold Drinks for their kulfi falooda.
When I was older, in class four, we moved to Breach Candy. But I must have been in class six or so when I began another weekend tradition of ice creams. It was a ritual to walk from Warden Road to Chowpatty. My friend and I would go to Cream Centre every Saturday or Sunday for a bowl of ice cream sundae. I also liked the Tutti Fruity flavour from here.
On school days, I remember that school would be open only for half a day on Saturdays. So K.Rustom's in Churchgate was a fixed stop after school every Saturday. I really enjoyed the Pista ice cream, which was served between two wafer biscuits. I can't imagine a life without ice cream and all the things that we did as kids for our favourite ice creams.
As told to Lalitha Suhasini
Bina Doshi's hand churned homemade ice creams are available on Scootsy in flavours such as Lemon Grass and Guava Chilli besides classic flavours such as Choco Chips and Strawberry. You can also call 9930312998.