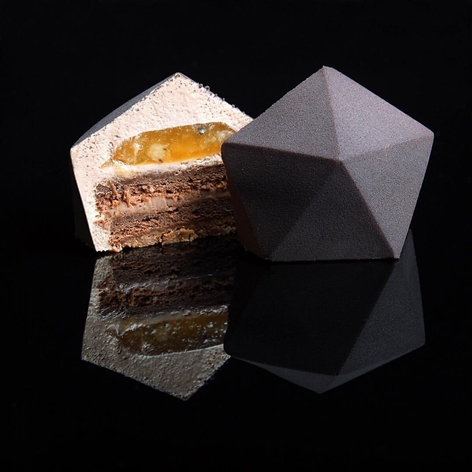 Chocolate sponge cake made using Valhorna chocolate mousse and yuzu jelly with passion fruit. Source: Dinara Kasko/Facebook
A Ukranian pastry chef studied architecture in college and did a stint as an architect-designer and a 3D visualizer before she turned to baking full-time. Dinara Kasko's Instagram page has caught the fancy of many, and quite rightly so. Her cakes and pastries are no less than creations of art, flawless in design and symmetry. And the pictures on her Instagram page are just as great, courtesy her extensive knowledge of photography. Almost a self-taught patissier, Kasko used her home kitchen to get busy experimenting, whilst also honing her craft by attending courses from famous pastry chefs from time to time. The result? Fascinating creations in pastry, that look so good, eating them feels like a crime. And going by the description, we're pretty sure they taste as fabulous as they look. However, creating these visually delightful cakes is no easy task. Kasko uses principles of design and architecture and would make her own silicone moulds when she first started out. She employs principles of construction like triangulation, biomimicry (studying models, systems and elements in nature and employing them to create designs). She has currently collaborated with a well-known mould-producer, to mass produce some of the moulds that form the core of her creations. Her current series, aptly titled Geometry, makes use of basic shapes like triangle, circle and square. With red, black and white as the common theme among her creations, the cakes are minimalistic, exploiting the beauty of simplicity, one Instagram picture after another.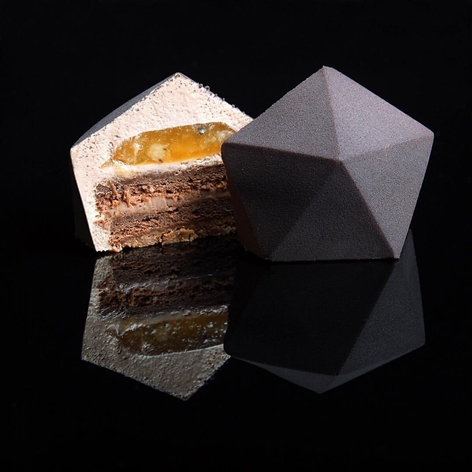 Source: Dinara Kasko/Facebook
The Lime-basil triangulation cake makes use of lime-basil flavoured mousse with Italian merengue, lime mousse-marshmallow, a lime-basil confit packed together with sponge cake and a layer of almond for a bit of crunch.
Feature image source: Dinara Kasko/Facebook