Lobster Breakfast Taco at Bastian
There are two brunches to look forward to in the city this week. The recently-launched seafood restaurant Bastian has a variety of food for vegetarians too and their new Sunday brunch, which launches this weekend, has several gluten-free options. At the Taj Mahal Palace hotel's Shamiana, which has been transformed into an all-day dining space, a sumptuous weekend brunch awaits.
Sunday Brunch at Bastian
What's in a name? Everything if you look at Bastian's new Sunday brunch menu that has our stomachs growling already for Friends with Benedicts, which is a sweet little English muffin served with hollandaise sauce. So not proper that we love it. There's also a glorious bacon dish called O Canada with maple bacon and crispy streak bacon, served with oven-roasted tomatoes, charred romaine and Texas toast with the crust chopped off. The brunch has several other dishes that sound like they'll be wiped out in seconds including the Lobster Breakfast Taco. What you have here is avocado, goat cheese and lobster butter (yay!) on tortillas. Vegetarians should know that chefs Kelvin Cheung and Boo Kim love truffle and you would be wise to pick Truffle Shuffle – wild mushroom scrambled and served with parmesan, truffle oil and gluten-free bread – for your brunch. And there are truffle fries and truffle honey butter biscuits if you haven't got enough truffle. It's a four-part menu comprising sections such as 'Salt', 'Salt + Sugar', 'Sugar' and 'Extra Credit' – we're getting something from every section.
Where: Bastian, B/2, New Kamal Building, Opposite National College, Linking Road, Bandra West
When: Sundays only, starting August 14, 12:00 pm to 4:00 pm.
Phone: 022 26420145.
The Taj Autograph Menu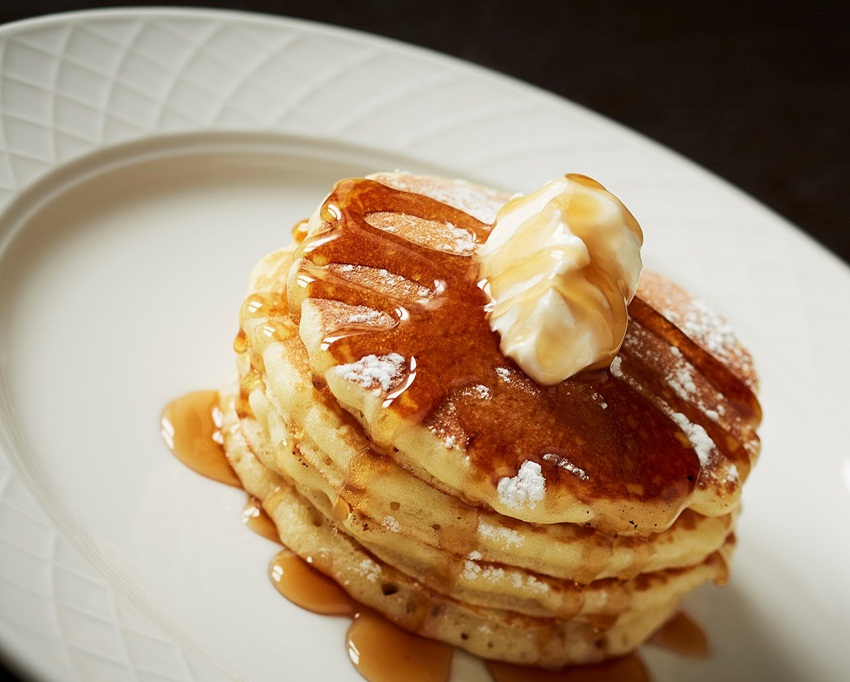 There are also home-style pancakes on Shamiana's new brunch menu
If the recently reopened Shamiana in its new avatar isn't reason enough to spend the whole day at the hotel, there's the exclusive Taj Autograph menu curated by Taj chefs from across the world that will make your visit memorable. Some of the signature dishes on the menu include the Cobb Salad from The Pierre, New York or the British staple of Fish and Chips from St James Court in London or if you're in the mood for a South African street food classic, try the Chicken Bunny Chow from Taj Cape Town. There are several other special dishes from Taj Exotica, Maldives and Taj Samudra, Colombo if you're craving for some fantastic sea food.
Where: The Taj Mahal Palace, Colaba.
When: All day
Phone: 022-66653296