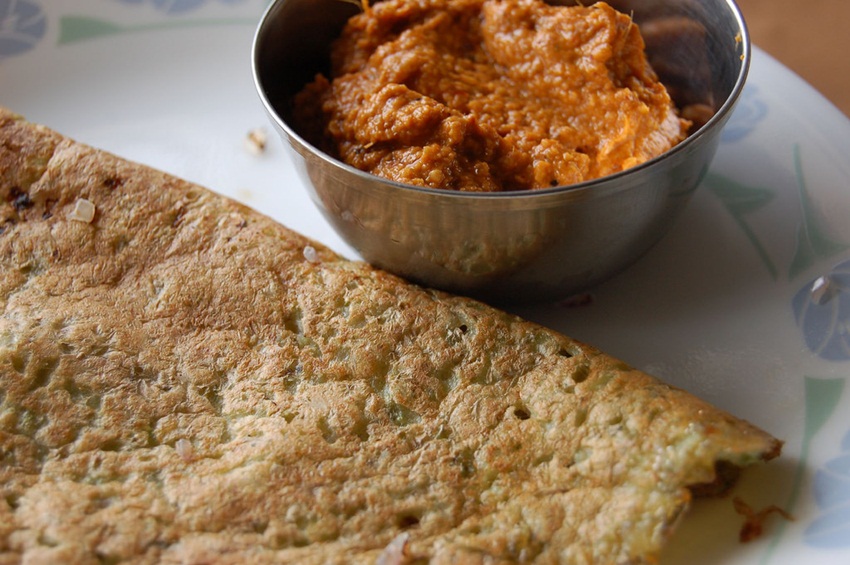 Pesarattu also known as pesarotte, a dosa made of green gram. Photograph by Upendra Kanda/Flickr
Every South Indian restaurant in the eastern suburb Matunga is not known for only filter coffee and vadas just as every South Indian you know doesn't eat just idli-dosa. For those who've just moved to the city or have recently begun exploring South Indian cuisine, these are some of our favourite snacks at the South Indian and Udipi-style restaurants in Matunga, a suburb in Mumbai, which is the city's mini Madras as we know it. The service staff are usually quick to bring the bill to your table since most restaurants in Matunga have a high turnaround and hungry customers waiting for a table, especially during the weekends. So either pick a day during the week or show up really early on a Saturday or a Sunday. Most restaurants in Matunga open at about 7 am and wind down by 10 pm. Only a few places including Madras Café and Café Mysore are open on Mondays, when the rest of the suburb takes a siesta.
Here's our Matunga trail should you decide to spend a whole day there.
Pesarotte at Amba Bhavan
Begin your day with pesarotte at Amba Bhavan. Known as Pesarotte in Kannada and Pesarattu in Telugu, this is a moong dal dosa made of green gram and a favourite breakfast of the Telugu people. The protein-packed pesarattu is best eaten with ginger pachadi, but at Amba Bhavan, it is usually served with coconut chutney. Also ask for their filter coffee and if the kind gent who waits on you is in the mood, he will make a performance of pouring it before he serves it. Amba Bhavan has the best filter coffee in the suburb. The place with its long necked fans and wooden menu boards has a lot of atmosphere, which is inviting, but early mornings and evenings are when you can while away time here without being swatted out like a pesky fly.
Where: Amba Bhavan, 373, Patel Mahal, Bhandarkar Road, Matunga East, Mumbai 400019
Phone: The place has never had one since it opened in 1934
Cost: Rs 45
Mysore Sada Dosa at Hotel Ramashray
That pesarattu shouldn't take longer than an hour and half to walk off. Once you've checked out the freshly ground coffee at Mysore Concerns, had a whiff of the heady jasmine and roses at the row of garland sellers a little up ahead, snooped around at Giri's for some cook books, you'll be ready for the paper light Mysore Sada dosa at Hotel Ramashray. The piquant coconut-chilli paste that is slathered inside is what is so special about this dosa and you really don't need anything else – the dosa is served with two types of chutneys and sambars though – to better this dish. We can easily pack away two of these after which we'd just like a lie in, except alas, Ramashray isn't a hotel even if the name suggests that it is.
Where: Hotel Ramashray, 24, Shreeji Sadan Building, Bhandarkar Marg, Opposite Matunga Kabutar Khana, Matunga East, Mumbai 400019
Phone: 022 24102623, 022 24102369
Cost: Rs 55
Paniyaram at Arya Bhavan
If it is coffee-time, then it must be paniyaram time. A Chettinad speciality, paniyarams are bite-sized balls of savoury goodness. The batter used is the same as the one used for idlis except that it is tempered with curry leaves, coriander leaves, mustard seeds, green chillies and bits of onion (and sometimes fresh, grated coconut too). Imagine masala mini idlis, steamed, but with a dash of oil that adds a crunch. These paniyarams are served with two kinds of chutneys and sambar at Arya Bhavan.
Where: Arya Bhavan, diagonally opposite Matunga Railway Station, Matunga East, Mumbai 400019.
Phone: 022 24159449
Cost: Rs 85 per plate of six paniyarams
Khotto idli at Café Mysore
Chances are you'll see puri-bhaji and even chhole bhature on Cafe Mysore's menu board, but ask for the khotto and you shall be rewarded with a fragrant idli, which has embrace the aroma of the jackfruit leaves that it has been teamed in. A Konkani speciality, khottos, also known as kottige or gunda (of the non-violent variety), are traditionally eaten for breakfast and are best served with raw mango chutney and sambar. At Café Mysore, the khotti idli is served with sambar and coconut chutney. You can also ask for a side of gun powder or mozhaga podi.
Where: Cafe Mysore, Shop No. 1/461-C, Durlabh Niwas, Bhaudaji Road, Matunga East, Mumbai 400019.
Phone: 022 2402 1230
Cost: Rs 60 per idli
Tuppa Dosa at Café Madras
Not to be confused with Madras Café in South Mumbai, Café Madras in Matunga is our go-to haunt if we're craving tuppa dosa. Tuppa means ghee in Kannada and tuppa dosas are slightly thicker dosas cooked with a generous amount of ghee instead of oil. The tuppa dosa is served with a bowl of mozhaga podi , coconut chutney and sambar. Smear the podi all over the dosa and dig in. This dish makes for a heavy meal, so prepare to take a long walk and choose a tuppa dosa either for breakfast or lunch.
Where: 38 B, Circle House, King's Circle, Matunga East, Mumbai
Phone: 022 24014419
Cost: Rs 45