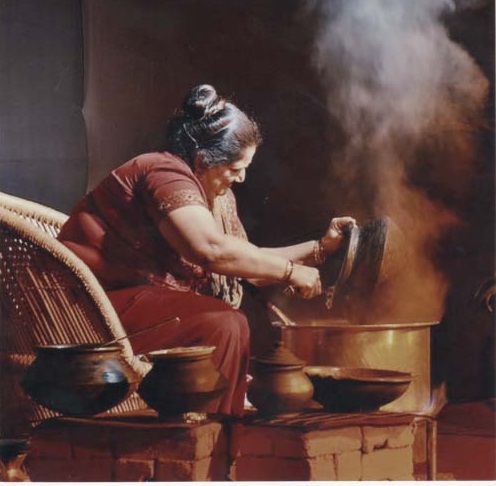 Actor Seema Pahwa believes that Saag Meat – a powerful monologue on social order and the Indian middle class – may not have been as popular if it weren't for the sumptuous feast that is served at the end of it. "The thing is that we Indians are constantly eating and if there's food involved, we'll probably do anything for it, even watch a play," says Pahwa, only half joking.
The actor plays the role of Sumitra, a Punjabi housewife, who makes the audience cringe and laugh at once with her artless and often, offensive opinions on her life and times. "I had first performed it in 1982, when Devraj Ankur (Devendra Raj Ankur) chose me for the role in Delhi. But in that version, my character was that of a helpless woman in a wheelchair." Pahwa turned around the play, which is based on a short story by influential writer Bhisham Sahni, to include the element of cooking only five years ago. "I called a couple of friends over and performed the play while I cooked. My first few shows were just for friends, after which I realised it was ready to be staged."
The challenge has always been to find a venue that makes provision for a stove since Pahwa cooks as she performs the monologue that is Saag Meat. "So we're always looking for a terrace, or somebody's lawn or a courtyard since this can be performed to a maximum of 300 people," says Pahwa, "Any more than that and the intimacy is lost, and the performance is killed."
We've attended one show which Pahwa performed on the terrace of her residential complex and returned completely moved. Pahwa gets into character even before the play begins, loudly beckoning members in the audience closer to where she is seated, like a friendly aunt would. Once she begins cooking, she's no longer alone, with the aroma of the saag meat drawing everyone into a cosy communion.
Here's Seema Pahwa's recipe for Saag Meat
"This is my own recipe," she says, "The book, of course, refers to it as Jagga's (her character Sumitra's domestic help) dish. It takes as long as it takes for me to finish performing – 40 minutes."
Ingredients
1 kg – Mutton
250 gm – Ghee
4 – Onions, sliced thin
75 gm – Ginger-garlic paste
4 – Tomatoes, chopped
1 tsp – Turmeric powder
1 tbsp – Cumin seed powder
1 tbsp – Coriander seed powder
1 tbsp – Salt
250 gm – Curd
2 bunches – Spinach, boiled and ground to a paste
Method
Add ghee to a broad pan.
Once the ghee is hot, add sliced onions and sauté until they are lightly browned.
Add the ginger-garlic paste next and sauté for a few minutes.
Add mutton and cook until tender, stirring often.
Add all the spice powders and mix with the meat until the masalas are all cooked.
Add tomatoes next and cook until soft, stirring as they cook.
Add the curd and boiled spinach and mix well.
Add salt to taste.
Serve with rice or roti.
Book tickets for Saag Meat, which will be held in Mumbai on August 21, here