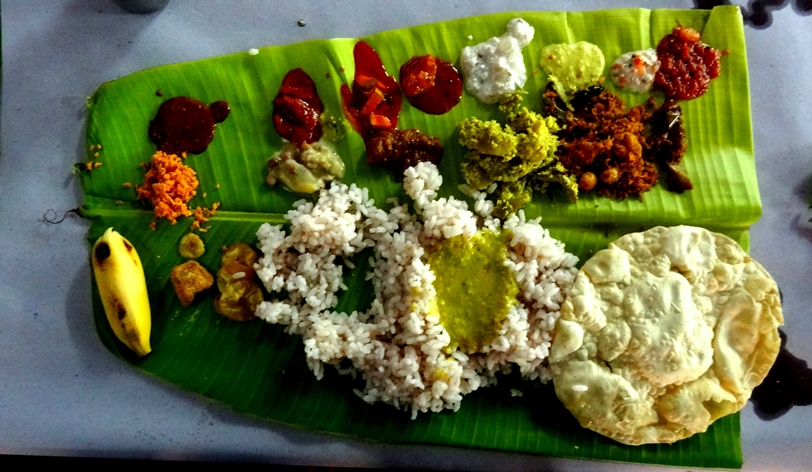 Jeyis Vadi/Flickr
A sadhya, Malayalam for banquet, is one of the highlights of Onam, one of the most important festivals in Kerala that marks the harvest season. Served traditionally on a banana leaf, a sadhya is typically a vegetarian affair and includes as many as 25-30 dishes. Ahead of Onam, which falls on September 14 this year, we bring you our pick of sadhyas in  Mumbai, Delhi and Bengaluru.
Mumbai
Hotel Deluxe, Fort
Hotel Deluxe, the no-frills restaurant in South Mumbai, serves traditional Kerala meals all year round and ups its game by many notches for Onam. This means more treats on the banana leaf. Their Onam sadhya this year has about 29 dishes including classics such as Kaalan, the yoghurt gravy made with raw banana and cucumber and Avial, a curry made of mixed vegetables. And if you can't make it to the restaurant on time, they offer home delivery with a nominal price hike.
Where: Hotel Deluxe, 10-A, Pitha Street, Opposite Citi Bank lane, Fort
When: September 14, 11:30am – 3:30pm
Phone: 022 30150801
Cost: Rs. 400 (and Rs. 430 for home delivery)
Just Kerala, Andheri East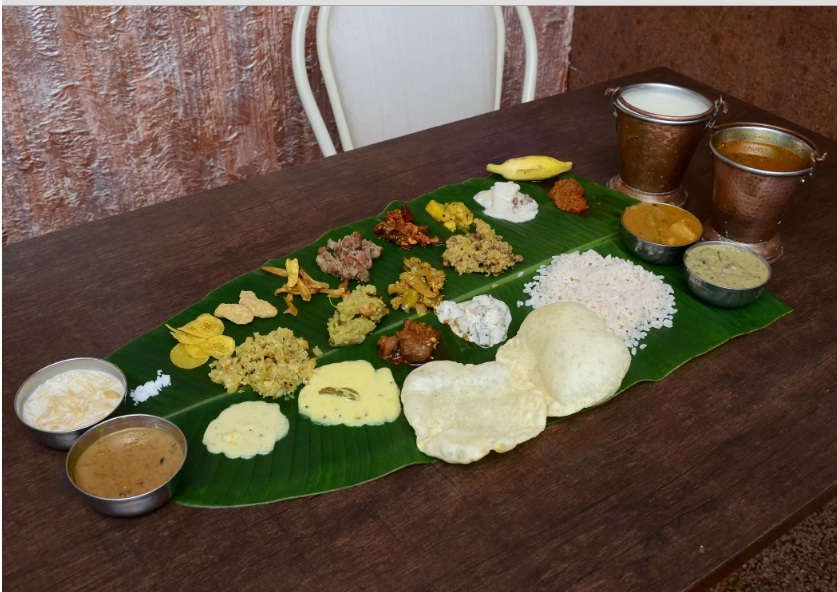 Just Kerala Sadhya, Photograph via Zomato
The sadhya here is an extravagant affair that is available both as a buffet and à la carte, served at the table. For Onam this year, the sadhya includes an assortment of 25 dishes including a special dessert: The ada payasam prepared with jaggery, rice ada and coconut milk, as well as the semolina payasam to conclude your meal.
Where: Just Kerala, Hotel Samraj, Chakala Road, Chakala, Mumbai
When: September 14, 12pm to 3pm (in hourly slots)
Phone: 022 28363919
Cost: Rs 600 for buffet and Rs 650 for à la carte
Benzy's, Marol

Fans of Kerala cuisine know that the good stuff is served at Benzy's. Spread over two levels, the restaurant serves a gastronomical treat of 25 dishes on Onam day. Apart from regular sadhya accompaniments such as banana chips, spicy achaar, and Sharkara Upperi – jaggery coated banana chips for that salty-sweet combination, the meal includes the koottukari, a spicy, thick gravy-based preparation of eggplant, yam, chana dal (split Bengal gram) cooked in ground coconut, with a hint of jaggery tempered with mustard seeds and urad dal (split, de-husked black gram lentils) in coconut oil. While they do offer home delivery, eating at the restaurant means unlimited servings of some of the finest Kerala food.
Where: Hotel Benzy Palace, Vijay Nagar, Marol Maroshi Road, Andheri East, Marol
When: September 14, 11am – 3:30pm
Phone: 022 30151976
Cost: Rs 400 (Rs 50 extra for home delivery)
New Delhi
Kerala Hotel, INA Market


If you're craving for home-style Kerala food in the capital, this is the place to be. The place maybe a tad shabby, but the food served hits the spot. There are at least 28 dishes on their Onam menu this year but when we called, the restaurant staff mentioned they haven't fixed the exact number of dishes yet. The more, the merrier. Expect to mop up the rice with classics such as rasam and thoran (sautéed peas, green beans, raw jackfruit, carrots, cabbage with grated coconut).
Where: Kerala Hotel, 211-A, Mohan Singh Market, INA Market, INA, New Delhi
When: September 14, 11 am onwards
Phone: 9810549978/9891643087
Cost: To be decided
Zambar, Gurgaon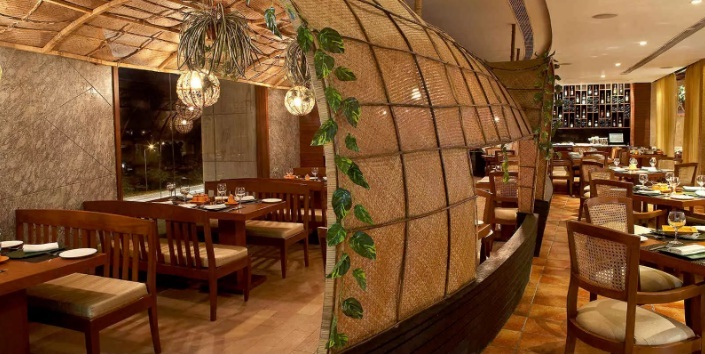 Zambar, Gurgaon. Photograph via Zomato

Looking to celebrate Onam in style? Zambar's chic, yet traditional-inspired interiors are your best bet. The restaurant décor is all wood, and features a Kerala houseboat theme, that just adds to the festive spirit of Onam. The sadhya at this restaurant in Ambience Mall is served on a banana leaf and includes 25 delicacies such as Kaalan and Olan, another Sadhya favourite made using white gourd, coconut milk, ginger and coconut oil. Chef Remya is also serving chilled buttermilk to wash it all down.
Where: Zambar, 3rd Floor, Ambience Mall, Gurgaon
When: September 13-14, 11:30am to 10pm
Phone: 0124 4948554/0124 4665639
Cost: Rs 795 plus tax
Bengaluru
Bon South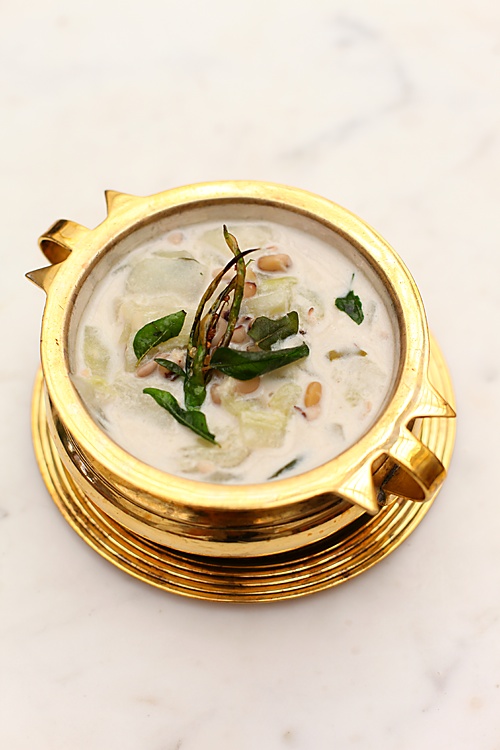 Olan- a stew made using Kerala red beans, Madras cucumber and coconut milk
This traditional lunch gets a super-sized makeover at Bon South and Southindies with their Mahabelly Onam Sadhya which features close to 60 dishes. From pazham puri (Kerala banana fritters) Parippu Vada (fried lentil patties), Olan, Kaalan (a dry cumin-flavoured yam and coconut preparation), to Pumpkin Ellisery (a red pumpkin and lentil speciality), Avial, Appam, Podi, Malabari Parathas and finally desserts like Parippu Payasam, Paal Ada Pradaman (rice flakes cooked in coconut milk and jaggery) and Pazham Purungidu (steamed Kerala bananas glazed with honey), you'll be hard-pressed to decide what to eat.
Where: Bon South, Koramangala and Southindies, Indiranagar
When: September 13-15, Lunch and Dinner
Phone: 080-25526363 for Bon South
080-41636363 for Southindies
Cost: Rs. 850 all inclusive (Bon South, for veg and non-veg)
Rs. 575 all inclusive (Southindies)
Karavalli, The Gateway Hotel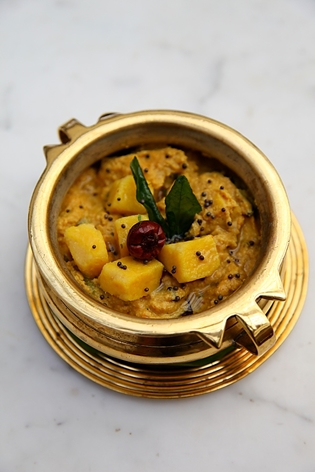 Kaalan – raw banana cooked in curd-based gravy
Karavalli at the The Gateway Hotel has curated a special banana leaf Onam sadhya featuring all the traditional delights of this festival. These include Kaalan, pineapple pachadi, Vendakkai Kichdi (fried bhindi cooked with ground coconut and curd); Pal Payasam, Ada Pradaman and more.
Where: Karavalli at The Gateway Hotel
When: September 14, Lunch only
Phone: 080 6660 4545 for reservations
Cost: Rs 1500 per person all-inclusive
24@43, Crowne Plaza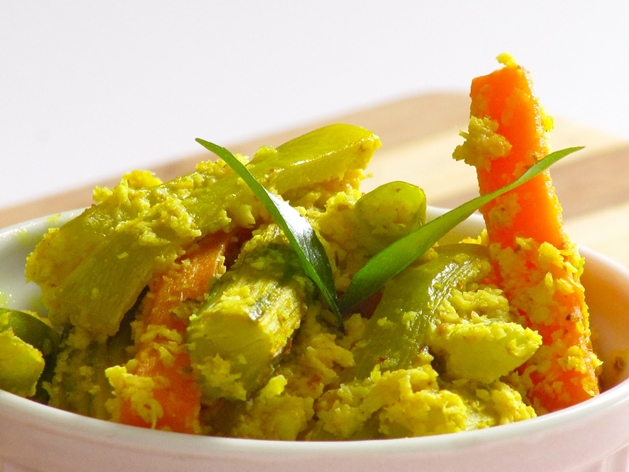 Avial, a mixed-vegetable dish that is integral to the Onam feast
24@43, the coffee shop at Crowne Plaza is celebrating Onam with a banana leaf sadhya, featuring Parippu, Erissery, Avial, Olan and Payasam among other dishes.
Where: 24@43, The Crowne Plaza, Electronics City
When: September 14, Lunch
Phone: 080-30030303 for reservations
Cost: Rs. 899 all inclusive
(With inputs from Akhila Ranganna)