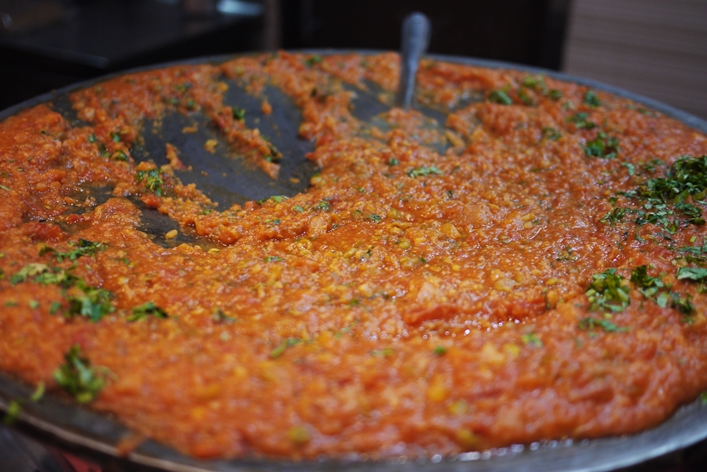 Pav bhaji is one of Mumbai's most popular street foods. Source: Barry Pousman/Flickr
Cannon Pav Bhaji, CST Station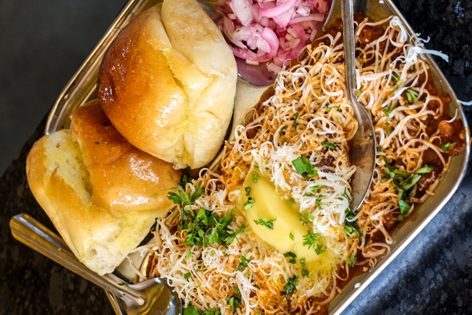 Photograph by: Saylee Padwal
Located outside CST station, Cannon Pav Bhaji is hard to miss. Despite its tiny size, with no seating available, it is popular with office goers in the area because of the quick, efficient service of the all-women staff. The crowd-favourite here is the cheese pav bhaji (with buttery pav of course), which is served with a heap of grated cheese on top and a huge chunk of butter for added measure.
Where: Opposite CST Station, Mumbai CST Area, Mumbai
When: 7am to 1am
Call: 022-22074205
Maruti Pav Bhaji, Vile Parle
If you're in Vile Parle, just ask anyone to direct you to Maruti. The pav bhaji here is unlike any other – served as a dark brown mash instead of the florid red. The colour is lent by the special masala that the owner Vaibhav mixes in with the vegetables, a practice that's been a constant since his grandfather first started the pav bhaji stall in 1970. Characterised by a strong flavour of roasted masalas and black pepper, this pav bhaji isn't for the faint-hearted. Of course, it helps that the pav served alongside is dripping with butter to take off the heat from the bhaji.
Where: Ground Floor, Angelina Building, Near Toyota Showroom, Baji Prabhu Despande Marg, Vile Parle West
When: 7:30pm to 12am
Call: 022-38565497
Soli Pav Bhaji, Haji Ali
Right outside Heera Panna Shopping Centre in Haji Ali, Soli Pav Bhaji is a hole-in-the-wall eatery. A special masala is their secret to doling out lip-smacking pav bhaji that's found a fan in Anil Ambani since the last 30 years.
Where: Outside Heera Panna Shopping Centre, Malviya Nagar, Haji Ali
When: 7pm to 12am