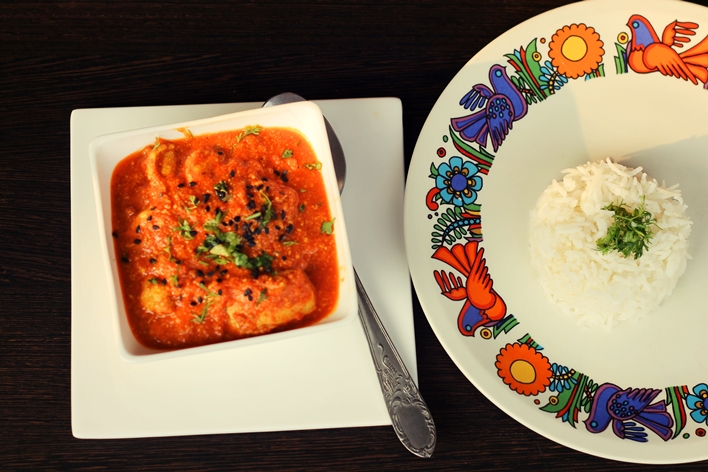 This butter chicken is like no other. Photograph by Tarika Singh
As a child, I remember being fixated on a picture book with a girl holding a baking tray and wanting to do the same, despite not being able to even read properly back then. During my teenage years, I did dabble with baking and would escape into the kitchen for hours, trying various combinations, creating a bunch of baked goodies. But it was my mother's butter chicken that had me most intrigued back then. Unlike most Punjabi households, the butter chicken that my mother made had a distinct flavour and it wasn't as heavy on the palate like the regular fare found at restaurants. Since I was quite young, I could only guess the ingredients and every attempt to weasel out the recipe from my mother would result in a broken recipe with slightly haphazard measurements.
I remember going over to a friend's place a few years ago, and deciding to cook butter chicken for dinner that night – I had begun cooking quite a few dishes by then. I called my mother to take down the recipe, but like always, all I got was a few wonky measurements. When we finally did prepare the dish, I realised it tasted nothing like my mum's version. A conversation with my mother at home finally revealed why my version differed vastly from hers – she belonged to the school of thought where recipes were guarded as a family secret. And since I was cooking at my friend's home, my mother was hesitant to share the recipe, and risk the secret leaving her kitchen.
I soon began blogging about food and my mother got to witness first hand the kind of reception and platform a blog provides to likeminded people when it comes to sharing recipes and a passion for food. It was then that she finally agreed to share the secret recipe – in bits and parts, as usual! On one instance, I got to know that she uses a tiny piece of burning coal to smoke the chicken (along with the gravy), whilst keeping the lid on. And finally, after years of pestering her, she let out the big secret – almonds instead of the heavy cream. To make my mother's butter chicken, you need to soak the almonds in water, remove the skin and grind them to a smooth paste that is neither too runny nor too thick in consistency. Follow a regular butter chicken recipe but add the almond paste to gravy and enjoy your butter chicken sans guilt.
Tarika Singh blogs on tarikasingh.com